The importance of LED lighting applications in the horticultural industry is increasing with the on-going trend of indoor and vertical farming applications. With controllable spectrum and illuminance, LED lighting is widely used in cultivation for various kinds of crops including tomatoes, cucumbers, herbs, greens and cannabis.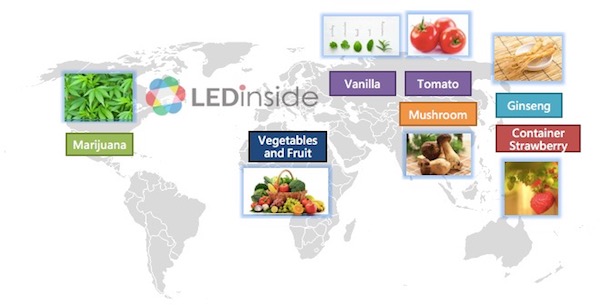 LEDinside notices that many LED and lighting companies have increased their product portfolio for horticulture lighting and pushed related technology development. According to the report of LEDinside, titled "2019 Light LED and LED Lighting Market Outlook," horticulture lighting is growing fast with major market momentum from Europe. In addition, legalization of cannabis in some countries also pushes the sales of LED growing light for cannabis cultivation.
Meanwhile, leading LED and lighting companies have set horticulture lighting applications as one of their business focuses. Signify has been actively expanding its products and technologies in the field. A report of Bloomberg indicated that Signify, as a strong player in the horticulture lighting market, is strengthening its position in the booming cannabis production.
On the other hand, Osram had increased its investment in horticulture lighting with the acquisition of Fluence and stake purchase of Motorleaf. Despite its declining revenue impacted by automotive business, Osram stands firmly with plant lighting applications and developments.
LED packagers also extend their products for horticulture applications. Samsung launched new horticultural lighting product series, including full-spectrum packages and modules. In addition, Samsung plans to integrate smart sensing or connected solutions to horticultural lighting LED products.
LEDinside estimates that the market scale of horticulture lighting and LEDs will grow to US$ 633 Million and 151 Million by 2022, with a CAGR of 30% and 27% during 2018 to 2022 respectively.