Innovative display technology is no longer a new idea in the industry with more and more Micro/Mini LED display products exhibited at major international events in the past two years.
However, there are still several challenging bottlenecks within Micro LED and Mini LED manufacture process that block the way to product commercialization. Therefore, it is expected that more industry players joining the market will help to advance solutions for achieving technology breakthroughs.
Flexible, Folding and Transparent Displays: Turning Points for the Oversupplied Display Industry
Roger Chu, Research Vice President of LEDinside, pointed out that the display industry has entered a phase of oversupply and is likely to remain this way in the future. Improvement in specification will be limited as displays have been evolving from bulky machines into thin panels with resolution reaching 8K. As a result, innovative display models such as foldable, flexible and transparent displays pave a new way for the industry.
Chu indicated that the improvement of display specification and creative models mark the requirements of high performance and innovation in the market.
As for high performance, HDR becomes the mainstream requirement for displays. Meanwhile, 4K resolution can no longer fulfill the new demands so panel makers are diversifying their products with 8K resolution. Nevertheless, these progresses of specification take place within conventional display structure.
On the other hand, innovative products are emerging. Foldable, flexible, curved and transparent displays as well as holographic projection are the new opportunities for the display industry with conceptual products showcased at event one after another. For example, LG debuted a foldable OLED display while Samsung demonstrated displays in varied shapes by splicing several display modules. We are entering a whole new era for display materialized by the panel manufacturers.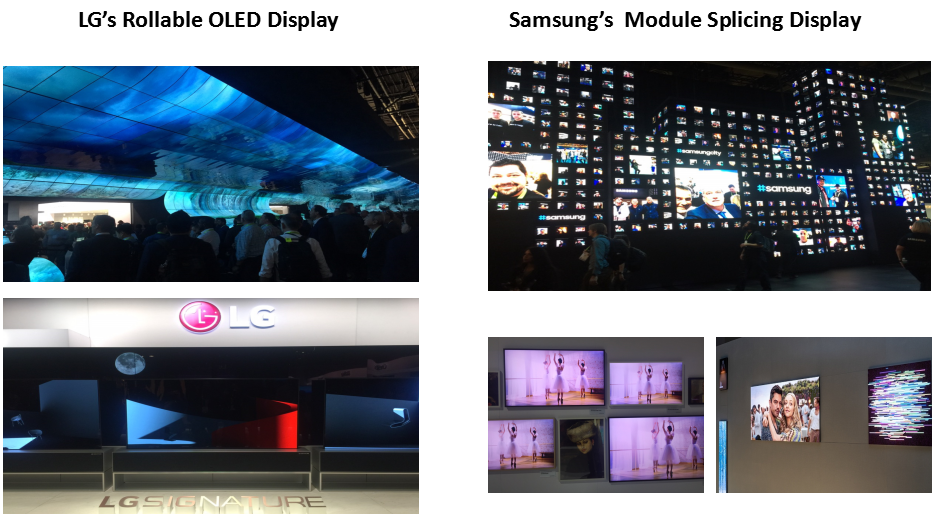 As a New Chance of the Display Industry, Mini LED Backlight Still Needs to Tackle High Cost
In the new era of display, Mini LED with its features of high brightness, high contrast, fast refresh rate and wide color gamut, opens up a new direction for the display industry.
Chu noted that for applications using displays smaller than 20 inches such as mobile phone and VR, RGB OLED still dominate. OLED has low cost advantage for these applications. Therefore, Chu said Mini LED backlight is only adopted for conceptual products in the domain currently. Mini LED backlight is majorly adopted in automotive displays and TV panels with AUO, Nationstar and BOE using Mini LED in their products.
Dimming Zone is another Mini LED feature for breaking into the market. Existing Mini LED backlight solutions in the market provide around 1000 dimming zones while some companies are working on increasing dimming zones for better display performance.
Despite that Mini LED products are entering the market; their manufacture cost is still a big issue. Take a 65-inch TV for instance, the cost of Mini LED backlight module would take up to half of the display cost including LED accounting for 15-20% and transferring process for another 15-20%. Moreover, unlike conventional backplane, Mini LED backlight backplane is a whole piece of 60-inch board, leading to high cost of PCB, taking up 50-60%. And IC takes 15% of the total cost. Thus, there are still rooms for these technology to improve, resulting in new opportunities for novel materials and equipment.
According to Chu, Mini LED cost reduction can be realized from advancing chip production, transferring process as well as PCB and driver IC enhancement.
The key to improve chip production include increasing yield and uniformity, together with shrinking chip size and expanding emitting angle. Upgrading transferring efficiency and accuracy is necessary for the manufacture process as well. As for PCB and driver IC, panel makers are switching PCB backplanes to glass ones and replacing driver IC with TFT to reduce cost by advancing semiconductor structure.
Speaking of end product application, Chu said that Mini LED has least opportunity to break into the smartphone market. Instead, the demands for diversified tablet applications may rise in the future; Mini LED could thus be a highlight. Nevertheless, cost is still the key.
Mini LED, compared to OLED, has more advantages in high-end applications such as IT and automotive display considering the cost. If Mini LED backlight cost can be further reduced to a level that is similar to LCD following technology improvement, it might join the mainstream market. In addition, Mini LED incorporating HDR could be the feature of high-end TVs in the future.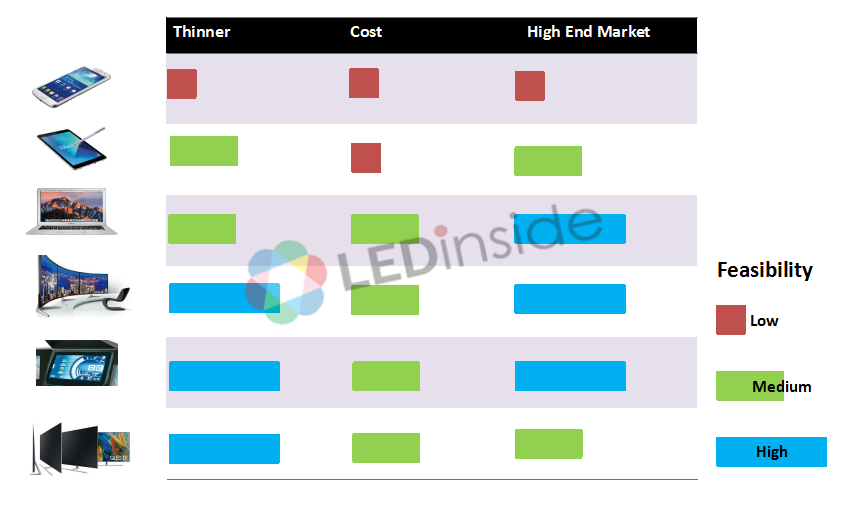 Micro LED Might Take the Lead in the Innovative Display Era
Since the beginning of 2019, more and more companies announced their Micro LED products and patents. Some companies used PCB backplane for large size signage while increasing numbers of panel makers launched Micro LED products on glass backplanes. However, the biggest size of Micro LED display module falls at 12 inches due to low yield. Larger sized panels are usually manufactured by splicing the small ones.
On the other hand, smaller sized displays usually adopt Si-CMOS backplane which companies from the U.S. and Europe hold a dominant position. Apple, Facebook and Google are all working on wearable devices and AR/VR applications with Micro LEDs. Specification of related products focuses on reaching high ppi resolution with Micro LED on Si-CMOS backplane. While delivering high brightness, these products still facing challenges of achieving high resolution with full color.
Chu pointed out that compared to LCD and OLED display in the high performance display market, Micro LED only has chances for applications targeting larger sized (above 65-inch) displays once it achieves a higher yield of 99.9% or even 99.99% and better transfer efficiency. Consequently, increasing yield and reducing cost are the solutions for mass production.
For the innovative display market, display makers are targeting foldable and flexible applications. Since Micro LED suppresses OLED in reliability, these novel applications pave a way for Micro LED to become the leading technology. Chu explained that Micro LED is based on semiconductor component with a strong structure which does not require protection layers or polarizer to be implemented in foldable solutions. Therefore, foldable display may be the domain for Micro LED to cut in.
Most of the manufacture processes of Micro LED have been solved since the development started. But technology builders continue to work on improving the yield of mass transfer and bonding. Inspection and repairing are also still bottlenecks for Micro LED mass production. Worldwide companies are developing solutions to overcome those technology and cost challenges.
LEDinside sees that Micro LED commercialization is at the corner according to the product development progress and projects that Micro LED revenue will reach US$ 4.2 billion by 2023.