Taiwan LED packager EVERLIGHT is demonstrating its complete automotive production lines and related modules such as Mini LED lamp, smart multi array lamp and fish scale rear lamps at NEPCON Japan 2020, taking place during January 15 to 17.
With continuous evolution of global technology and digital transformation of the automotive industry, EVERLIGHT has adopted the ISELED technology to launch the EL SMARTLED series (3.0x4.1x0.9mm) with embedded smart ICs in order to comply with these trends and target intelligent innovation and R&D. The driver is integrated into RGB LED package, and its component calibration color difference can be controlled in the third order SDCM (MacAdam Ellipse). By embedded IC program, optical decay in red light chip and self-diagnosis failure can be compensated. The transmission rate can be up to 2Mbps. Compared to a traditional solution for RGB LED, EL SMARTLED provides better color uniformity.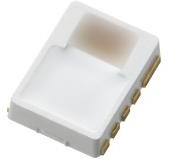 (EL SMARTLED Series are suitable for the interior lighting scenario of automobile; image: EVERLIGHT)
In addition, EL SMARTLED has been developed for AEC-Q102. A wide application range for lighting the automotive interior includes interior light, moon reading lighting and dashboard display. The dimension of this package is 3.0mm x 4.1mm to implement the best optical performance.
The fish scale lamps, developed by EVERLIGHT employing the light-guided plate with high-power ceramic package, have the luminescence effect similar with OLED, but more solid and reliable. With the wide temperature range (-40 to +125 degree Celsius) and response time in nano-second, the lifetime and performance are much better than OLED. Mini-LED Lamps are manufactured by the components with small-pitch display, in compliance with 27.63 pixels per inch for the vision of human eye and implementing the excellent Adaptive Rear Lamp System. The images and texts can be flexibly played to present the exquisite and clear quality according to the requirements. Smart Multi Array Lamps use the Smart Multi Series (3.5x3.5x0.8mm) built-in drive and control ICs to accomplish the information transfer and multiple image display in the simplest way. This technology can be designed for rear running lamps, rear brake lamps and rear turn signal lamps.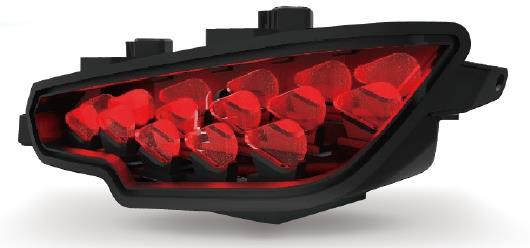 (EVERLIGHT Fish Scale Lamp with better solidness and reliability. Appropriate package structures and product materials tailored to customer's requirements. Image: EVERLIGHT)
EVERLIGHT will also demonstrate many special lighting and display LEDs at NEPCON Japan 2020. With the professional development ability over 36 years, the company combines its R&D, business and market teams to continuously seek the innovation and breakthrough on package technology and quality control as well as provide all kinds of perfect solutions for customers.