The COVID-19 pandemic has created severe impacts on the global economics. People around the world are getting used to a new lifestyle in response to the crisis as well. In order to prevent infection, UV technology applications are returning to the center of the industry. UVC, with the wavelengths between 200 – 280 nanometers (nm) and can deactivate bacteria and viruses, is gaining unprecedented attention in particular.
In the past few months, the effects of UVC light on coronaviruses have been discussed and reported. LED manufactures also hurriedly devoted to UVC LED products in terms of chips, packages, modules, and final products. When people in the related field are looking forward to the bright future of UVC LEDs, two lately News threw a wet blanket over them.
First, Signify and Osram both announced that they are increasing product lines for conventional UV lamp instead of UVC LEDs. Second, the new ANSI Standards defined by Illuminating Engineering Society of North America (IES) and International Ultra Violet Association (IUVA) mostly base on the basis of UVC conventional lamp.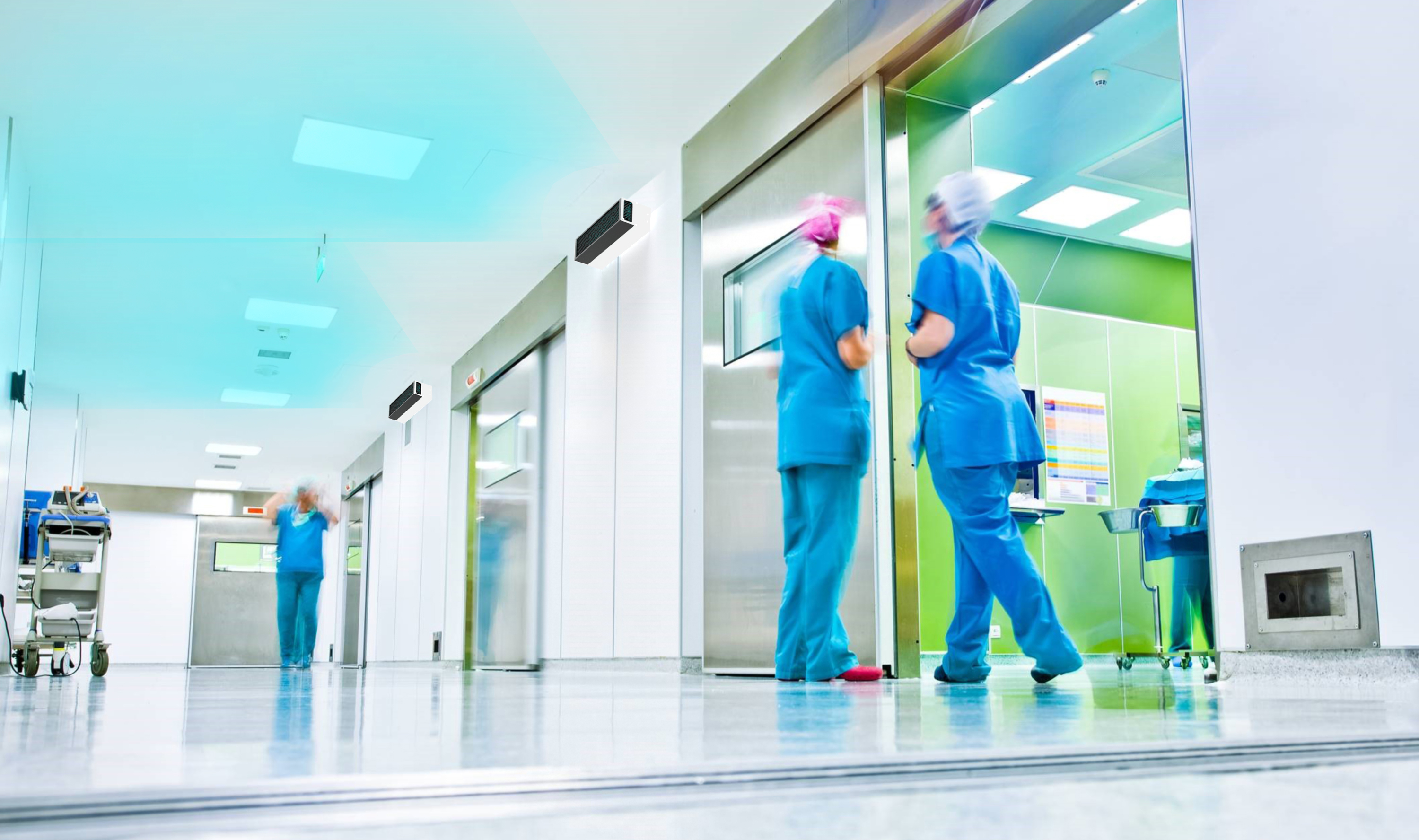 (Image: Signify)
The use of mercury-containing conventional UVC lamp was gradually banned following the "Minamata Convention" announced in 2013. UV LED thus inevitably become the solution and a few of manufactures are getting ready for the move, such as an increasing portion of UVA (360-241nm) in industrial application in 2017; large application of UVC-technology to home appliance and water purifier in 2018. And the unexpected COVID-19 pandemic in 2020 is adding more fuel to the flame. However, the decisions of Osram and Signify as well as the new ANSI Standards were heading to the other side, posting the current problems of UVC LEDs, technology (capacity, luminous power, module design) and price.
A senior executive of Signify noted in UVC product launch that "LED technology in its current state is not viable for killing the virus…If we were using LED, it would be totally incompatible from a cost perspective and from a consumption perspective."
Orsam's senior executive also commented, "We've been still in lamps business for certain industrial applications where a change to LED is still no feasible from technical or commercial standpoint, including the UV-C business."
Lately the market there has been a wide range of UVC LED products that claim to kill virus and bacteria, such as handheld germicidal lamps or sterilizer boxes. However, many still have doubts about their disinfecting effectiveness.
So, what should be the next move for UVC LED manufactures in such circumstance that the prosperity appears to be an illusion?
How does UVC disinfection work?
Studies showed that when biological organisms are exposed to UV light ranged from 200-300nm, their DNA and RNA will be damaged, leading to rupture of cell walls and death of the organism. In general, the disinfection is activated at the exposure time of one to two seconds. UVC with wavelengths of 200-280nm is thus the only radiation capable of killing bacteria and viruses, particularly between 253-254nm.
UVC disinfection (conventionally with low pressure mercury lamp made from mercury and ozone) has long been used for varied disinfection in drinking water, medical device, tableware, tickets, and air purification.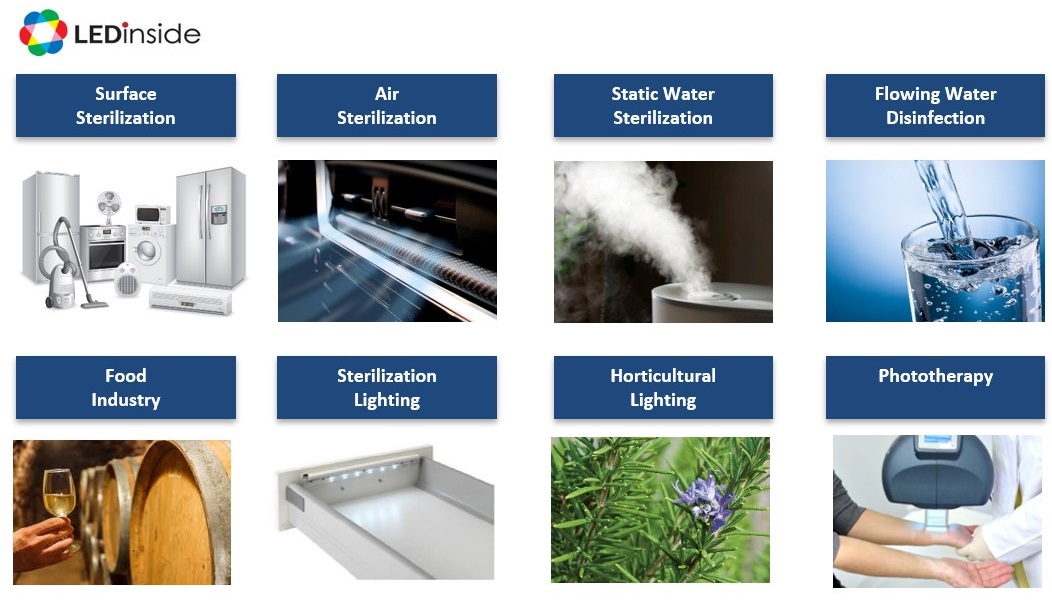 At present, the common issue for UVC germicidal lamp lies in the neglected illuminance depreciation. People think the disinfection capability remains the same as long as the lamp is on. Furthermore, the assessment of UVC lamp is simply based on the standard of ordinary lamps.
According to the guide for standard disinfection and sterilization, the dose of UVC radiation to kill germs varies. The UV dose is the product of UV intensity (per unit surface area) and residence time.
K (Dose) = I (Intensity) x T (Time)
Based on the formula, high intensity with shorter time makes equal effect to the low intensity with longer time. For common users who are less likely to check the duration of use, illuminance, and sterilization activity, they are also at a higher risk to exposure to incompletely-sanitized products.
UVC radiation is less absorbed as we expect, in which its absorption would be blocked by dust, paper, medal and plastics. However, when UVC radiation well destroy bacteria and viruses, it also causes harm to human and animal, easily in eyes and skin. Therefore, UV light should be operated along with safety devices, Signify and Osram both built their products with safety sensors that enable UV lamps to turn off when people pass by.
The disinfection of UVC lamp could be applied to limited and specific markets and environments due to the fore-mentioned issues.
In 2018, many UVC LED makers have achieved technology breakthrough and produced UVC LED chips with higher power and lower price, leading to launches of different UVC LED applications. Many manufactures, such as LG, Seoul Viosys (SETi), Crystal IS, AquiSense, Asahi Kasei, Dowa, and Jason, have begun promoting UVC LED products, mostly for water purification. It wasn't until early 2020 that UVC LED totally become a hit, with the impact of COVID-19.
Due to COVID-19 pandemic, personal and public hygiene started drawing greater attention. Many portable UV LED products debuted in the market covering UV LED masks, UV disinfecting box, torch, air conditioning, air purifier and more. Yet, the quality of these varied products remains questionable.
(Author: Charles Wu, Global LED Application Market Development Director)