Upon the closure of Semi Materials in Korea on July 1st, Hilco Industrial Acquisitions (www.hilcoind.com/sale/semimaterials) has acquired (2011) late-model semiconductor complete GaN-on-sapphire LED production line. Featuring 89 items of production equipment and facilities.
Roderik Huber, vice president of Hilco in Amsterdam commented on the transaction, "The receivers handled the sale of the assets in a quick, professional, fair and transparent bidding process, we were the winning bidders for the entire package of assets." Hilco Industrial in partnership with SDI FABSURPLUS is pleased to announce a complete LED manufacturing line for sale.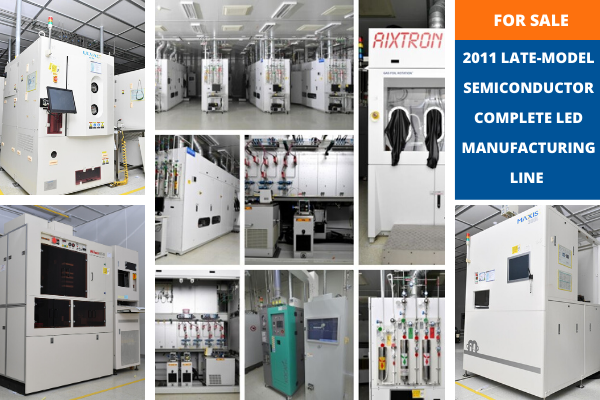 (Image: Hilco Industrial Acquisitions)
The line was set up in 2011 to produce 4 inch GaN on Sapphire wafers. It contains all steps of the manufacturing process, from MOCVD substrate growth through to packaging the final product.
All equipment is still installed in the fab.
The equipment is shut down and powered off.
Inspection is available by appointment.
The equipment is in excellent condition, with no missing parts.
The equipment was lightly used in an R&D environment for around 2-3 years.
The equipment runs 4 inch sapphire wafers, and many items are also capable of running 6 inch wafers.

To arrange an inspection, access more detailed information about the assets which are being sold, or to learn specific information about the sales process please contact: Roderik Huber (RHuber@hilcoglobal.com)
About Hilco Industrial:
Hilco Industrial (www.hilcoind. com) provides industrial asset acquisition and disposition services, specializing in machinery, equipment and inventory auctions and negotiated sales. It sells the broad range of industrial assets found in manufacturing, wholesale and distribution companies. Hilco Industrial buys and sells assets through on-site, online and combination webcast auction sale events as well as negotiated (private treaty) sales. In addition to providing services on a fee basis, Hilco Industrial puts capital at risk and often acquires assets or provides guarantees. Hilco Industrial is part of Northbrook, Illinois based Hilco Global (www.hilcoglobal.com), the world's leading authority on maximizing the value of business assets by delivering valuation, monetization and advisory solutions to an international marketplace. Hilco Global operates more than twenty specialized business units offering services that include asset valuation and appraisal, retail and industrial inventory acquisition and disposition, real estate repositioning and renegotiation, strategic advisory, operational consulting and strategic capital equity investments.